Welcome to One year Anniversary of Hearth and Soul blog hop.  As usual I am expecting , wonderful tasty food with favorite moments, stories etc. Come and join us for an unique search for real food.Real tasty food is always quite a challenge. From now onwards linky will be open for some more time so that you don't need to worry about missing the chance to link your favorite food to the Hearth and Soul blog hop.
Now onwards please link up with one of the host's blog not on the Hearth and soul hop blog. As a part of wonderful Host team 
There are wonderful giveaways that are going as part of one year anniversary of Hearth and Soul hop  at
Alex @ moderate life : giving two cook books details here
 http://amoderatelife.com/2011/06/happy-1st-anniversary-to-the-hearth-and-soul-hop-and-a-giveaway/
Alex at
A Moderate life
Jason at Alternative Health and Nutrition
Alea of
Premeditated Leftovers
April of
21st Century Housewife
Kankana of
Sunshine and Smile
Melynda of
Mom's  Sunday cafe
and me
Swathi of
Zesty south Indian Kitchen
I look forward to wonderful link ups with awesome real food. Now onwards you have to linkup with one of host blog, as 
Hearth and Soul Hop blog
  is going to sleep for some time. 
Thanks for stopping by and linking the great real food. I am looking forward to a wonderful array of linkups for this week. Also thanks for just checking back the real soul food links.
Hearth and Soul Mission read from here
Rules for linking
–One link per week, please-Must include a link back to one/any of the host sites (through worded link or badge) in individual post, not on sidebar…although we love having links on your page, as well (this benefits all of us). You will be sent a gentle reminder if no link is added to your post, we understand that sometimes people forget…but if it becomes a regular occurrence, (even though we don't like to do it) your post may be removed. It's just not fair to those who do take the time and show the grace to link back.
-Try to link a post that you think fits into the mission. You don't have to link up every week,link up when you can. We welcome posts that are shared in other events. If you have an older, archived post that you want to add, we welcome that…as long as you go in and add a link back to Hearth and Soul.
Please feel free to grab the Hearth and soul blog hop badge, that will help to spread the word.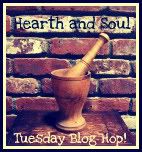 ---
1. Southwest Chicken Frittata & $50 Amazon GC
2. Strawberry Cheesecake Frozen Yogurt
3. Zucchini lasagna
4. Like A Warm Blanket: Warm Milk with Saffron
5. Roasted Shrimp & Orzo Salad
6. Fresh Fruit Compotes for Pancakes or Ice Cream
7. Chocolate Banana Freezer Pie
8. There is a garden at my work. . . .
9. Nettle Party Dip
10. Honey Apple Chicken Salad
11. Mushroom and Faux Meat Tomato Sauce
12. Mango Jam
13. Butter Wheat Rolls
14. Stir-Fry Flowering Chives with Prawns and Tofu
15. Caramel Pecan Cheesecake
16. Crepe with Crab stuffing
17. Summer Squash and Chicken Skillet
18. Turmeric-Infused Quinoa Salad
19. Homemade Rhubarb Juice
20. Ultimate Fluffy Pancakes
21. Braised Red Cabbage
22. Pesto (Dairy Free Option)
23. Its too hot to Cook
24. Pasta with Bacon and Mixed Greens
25. slow cooker carnitas
26. DONT TAKE PROBIOTICS – TRY ARSENIC INSTEAD?!
27. Pork Roast
28. Asado(Filipino Version)
29. Zesty Greek Salad & Low Carb with REAL food update
30. Strawberry and Rhubarb Dairy-Free Ice Cream
31. Mushroom and potato stew
32. Red Velvet Cupcakes w/ Caramel Sauce
33. Cookie Dough Brownies
34. Slow Cooker Boiled Peanuts
35. Meatballs & Zucchini Pasta
36. Simplify Summer with Food Remixing
37. Sliders for Dads Day
38. Cook with Garlic Scapes (Hounds in the Kitchen)
39. Chickpea Fajitas
40. Honey Dijon Baked Salmon
41. Quinoa Pasta with Goat Cheese & Veggies
42. Dandelion Jelly
43. Kahlua Brownies~
44. Quinoa Pasta with Goat Cheese and Veggies
45. Cheesy Spirals and Carrots
46. Red Pepper & Carrot Soup
47. Sesame Seed Crackers
48. Apple Butter Pie
49. Jeera (Cumin) Biscuits
50. My smoked salmon!
51. Outlaw Farmers Goat Milk Mango Lassi
52. Hot Pizza Dip
53. Ditch Grains and Possibly Save Your Life
54. Peanut Butter & chocolate Chip Pancakes
55. Homemade Baklava
56. Potato Salad with Fennel and Red Bell Pepper
57. Gluten & Soy-free Waffles with Apple Pear Compote
58. Asparagus Bell Pepper Subzi
59. Pops Peppery Chili
60. Jalapeno and Cheese Bread
61. Chicken Caesar Wraps
62. Berry yogurt smoothie
63. Loaded Grits
64. Aloo Paratha
65. Orange & Peas Pulao
66. Sweetened semolina coconut balls
This linky list is now closed.