Welcome to the Hearth and Soul Hop #54
Welcome to another edition of Hearth and Soul blog hop.  As usual I am expecting , wonderful tasty food with favorite moments, stories etc. Come and join us for an unique search for real food.Real tasty food is always quite a challenge. From now onwards linky will be open for some more time so that you don't need to worry about missing the chance to link your favorite food to the Hearth and Soul blog hop.
Alex at
A Moderate life
Jason at
Alternative Health and Nutrition
Alea of
Premeditated Leftovers
April of
21st Century Housewife
Kankana of
Sunshine and Smile
Melynda of
Mom's  Sunday cafe
and me
Swathi of
Zesty south Indian Kitchen
I look forward to wonderful link ups with awesome real food. Now onwards you have to linkup with one of host blog, as 
Hearth and Soul Hop blog
  is going to sleep for some time. 
Thanks for stopping by and linking the great real food. I am looking forward to a wonderful array of linkups for this week. Also thanks for just checking back the real soul food links.
Hearth and Soul Mission read from here
Rules for linking
-One link per week, please-Must include a link back to one/any of the host sites (through worded link or badge) in individual post, not on sidebar…although we love having links on your page, as well (this benefits all of us). You will be sent a gentle reminder if no link is added to your post, we understand that sometimes people forget…but if it becomes a regular occurrence, (even though we don't like to do it) your post may be removed. It's just not fair to those who do take the time and show the grace to link back.
-Try to link a post that you think fits into the mission. You don't have to link up every week,link up when you can. We welcome posts that are shared in other events. If you have an older, archived post that you want to add, we welcome that…as long as you go in and add a link back to Hearth and Soul.
Please feel free to grab the Hearth and soul blog hop badge, that will help to spread the word.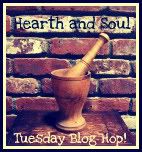 ---
1. Blueberries Cupcakes
2. Fairy cookies
3. Broccoli on a Tropical Trip
4. Savory buns
5. Firecracker Float
6. Nettle-Coconut Chutney
7. Sourdough Biscuits
8. Pilsner Hot Chicken Roti
9. Green Chili Burger
10. CHOCOLATE CHIP MUFFINS
11. Budget Friendly Bento
12. Chipotle Lime Corn on the Cob
13. the BEST Spaghetti and Meatballs!
14. Strawberry Cream Cheese Frosting
15. Candied Jalapeno Mango Salsa
16. Homemade crackers
17. Tilapia with Purple Potatoes and Roasted Broccoli
18. Asian Coleslaw
19. Chocolate Banana Cupcakes
20. Greek Pizza
21. Bills Big Carrot Cake
22. Scallops with Garlicky Rainbow Chard
23. HOMEMADE MINT CHOCOLATE / CAROB CHIPS
24. White Bean Zucchini Lasagna
25. Kids and Cake Balls
26. No Bake PB & J Cake Pops
27. Grain-Free Chunky Monkey Muffins
28. Blueberry Cream Cake
29. Raspberry-Almond Bars
30. Amazing Zucchini Muffins
31. Picadillo
32. Rosemary Citrus Beer Butt Chicken
33. Fresh Asparagus Soup
34. Carrot Cake Cookies
35. wajik – Indonesian Brown Sticky Rice Cake
36. Sour Cherry Preserves from Hounds in the Kitchen
37. Indian Sloppy Joes
38. Spicy Thai Chicken & Mango Basil Salsa
39. Blueberry-Balsamic Eggplant Steaks
40. Double Chocolate Granita
41. Rum Raisin IceCream w/ Cajeta
42. Family, Judgment, Gratitude@ Yolks, Kefir, &Gristle
43. Zucchini a la Carbonara
44. Unique Flan
45. Grilled Corn on the Cob
46. My Love Affair with Mango
47. Vegetable Biryani
48. 3 Primal/Paleo Green Smoothie Recipes. PRIMAL TOAD
49. Arugula Apple Chicken Salad
50. Your Familys Food Security
51. Strawberry Pudding
52. Potato Salad w/Honey Thyme Vinaigrette
53. Chicken Minestrone Skillet
54. Chili Lime Chicken Romaine Salad
55. Grilled Stir Fried Shrimp
56. Cream Filled Doughnuts
57. Blanching & Freezing Wild Greens
58. Leek and Ham Risotto with Cherry Tomatoes
59. Classic Caesar Salad
60. Apple Chips
61. Coffe Latte Cream
62. broiled grapefruit
63. Dressed for Success Brisling Sardines
64. Baked Three Cheese Lemon Pepper Pasta
65. Chilled Leek Soup with Salmon and Dill
66. Chicken and Lemon Grass Curry
67. Thyme Scented Three Bean Cassoulet
68. Black Bean Veggie Burgers
69. Roasted Red Peppers
70. Vegetable Chilli
71. Strawberry Frrozen Yogurt
72. Tegans Chicken & Cheese Enchiladas
73. two tuna salads for summer!
74. Moussaka
This linky list is now closed.