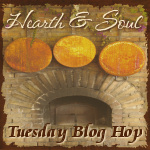 Hearty Welcome to  Hearth and Soul blog hop 4th Anniversary Edition. We are happy that you all support us during these 4 years with your delicious and healthy recipes. As a token  of  your love towards us  making this Hearth and Soul blog hop  an interesting linky party. My co-hosts and I are offering a giveaway open to readers in the US, Canada, UK, the EU and India. There are two Amazon gift certificates for $50 (or equivalent) and one for $10 (or equivalent) on offer. There are several ways to enter so don't miss out on the chance to win!
 We are looking forward to a delicious, healthy, recipes as all as health related information which helps to energize our body.Here few recipes from last week.
1.Flax seed roti from Food Maza 2. Chickpeasoya curry from Real home cooked food 3. Tres leches cake from Traditionally modernfood 4. Cilantro lime rice from Kaleidoscope 5. Vegan Mozzarella from Quicknhealthy 6. Hotdog and dipping sauce from yesterfood 7. Hummingbird bars from Ma Niche  
Please make sure to share your photograph We the hosts at Hearth and Soul care very deeply about this blog hop, and make an group effort to be sure that every post is commented on. We also Pin and Tweet many of the entries. You don't find this with every blog hop, and in exchange for our efforts, we respectfully request that you include a link in the actual blog post you are sharing back to one of the hosts, either by worded link or using our badge. It is not enough to link using a communal blog party page. People rarely click on these links and it is unlikely they will find the Hearth and Soul hop using these sort of pages.
Please link to any one of the host sites,
One link per week, please-Must include a link back to one/any of the host sites (through worded link or badge) in individual posts, pages as we love having links on your page, as well (this benefits all of us). It's just not fair to those who do take the time and show the grace to link back.-Try to link a post that you think fits into the mission. You don't have to link up every week,link up when you can.One of the host will be pinning your post.
Please feel free to grab the Hearth and soul blog hop badge, that will help to spread the word.