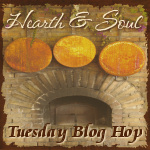 Hearty Welcome to the another edition of Hearth and soul blog hop with Cake edition. We are looking forward to a delicious, healthy, recipes as all as health related information which helps to energize our body.Here few recipes from last week.
1 Banana swiss rolls with chocolate cream cheese filling from Winnie's blog
2 Petit pane au lait from foodmaza
3. Mango milk shake from Kaleidoscope
4. Steak and asparagus salad from 21st century house wife
5, Mango fruit custard from Real home cooked food
6. Orange bundt pound cake from sumees culinary
7. Quinoa cutlet from Quicknhealthy
8. Picnic cake from Mizhelen's country cottage
9.Cape codder from Msenplace
10. Banana bread from Yesterfood
Please make sure to share your photograph

We the hosts at Hearth and Soul care very deeply about this blog hop, and make an group effort to be sure that every post is commented on. We also Pin and Tweet many of the entries. You don't find this with every blog hop, and in exchange for our efforts, we respectfully request that you include a link in the actual blog post you are sharing back to one of the hosts, either by worded link or using our badge. It is not enough to link using a communal blog party page. People rarely click on these links and it is unlikely they will find the Hearth and Soul hop using these sort of pages.
Please link to any one of the host sites,
One link per week, please-Must include a link back to one/any of the host sites (through worded link or badge) in individual posts, pages as we love having links on your page, as well (this benefits all of us). It's just not fair to those who do take the time and show the grace to link back.-Try to link a post that you think fits into the mission. You don't have to link up every week,link up when you can.One of the host will be pinning your post.
Please feel free to grab the Hearth and soul blog hop badge, that will help to spread the word.
0