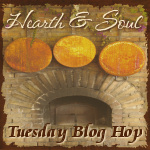 Hearty Welcome to Hearth and Soul blog hop June edition We are looking forward to a delicious, healthy, recipes as all as health related information which helps to energize our body.Here few recipes from last week.Alea of Premeditated Leftovers is going step down from the hop to concentrate more on her blog. Yes we are going to miss her. Still she will continue her support from behind the curtains. We both April and Me excepting continued support from you the awesome contributors and readers making this Hearth and Soul blog hop best.
We got lot awesome entries last week few of them got my attention and are.
P
lease make sure to share your photograph
We the hosts at
Hearth and Soul
care very deeply about this blog hop, and make an group effort to be sure that every post is commented on. We also Pin and Tweet many of the entries. You don't find this with every blog hop, and in exchange for our efforts,
we respectfully request that you include a link in the actual blog post you are sharing back to one of the hosts, either by worded link or using our badge.
Please link to any one of the host sites,
Swathi of Zesty south Indian Kitchen One link per week, please-Must include a link back to one/any of the host sites (through worded link or badge) in individual posts, pages as we love having links on your page, as well (this benefits all of us). It's just not fair to those who do take the time and show the grace to link back.-Try to link a post that you think fits into the mission. You don't have to link up every week,link up when you can.One of the host will be pinning your post. Please feel free to grab the Hearth and soul blog hop badge, that will help to spread the word.

0
This is Swathi ( Ambujom Saraswathy) from Zesty South Indian Kitchen who loves to explore cuisines from all over the world. Whenever possible I try to to give an Indian touch to several of the world cuisine, and has weakness for freshly baked bread.  All the recipes you see here are created by me and approved after taste-test by my family.